Welcome to ABC Towing & Service of Northwest Indiana
At ABC Towing & Service, we guarantee you the highest quality of service for all of your towing needs. Our experienced and dependable drivers will always provide you with professional and courteous service.
We provide automotive assitance for everything from jump starts, spare tire changes, and vehicle unlocks to tows for your car, motorcycle, or large equipment to your preferred repair facility.
ABC Towing has both flatbed and wheel lift tow trucks on duty 24-7 to handle your special needs, as well as medium and heavy duty trucks for larger vehicles.
Services Offered
Jump Start Service
Lockout Service/Cars Opened
Gas & Diesel Delivered
On Duty Mechanic
Dealerships & Shops
Light & Medium Duty Trucks
Wheel Lift Service
Flatbed Service
Local/Long Distance
Motorcycles
Boats
Equipment Moved
Off Road Recovery
4 Wheel Drive Trucks
Winch Service
Cargo Reloaded
Accidents Anywhere
Secure Storage
Areas Serviced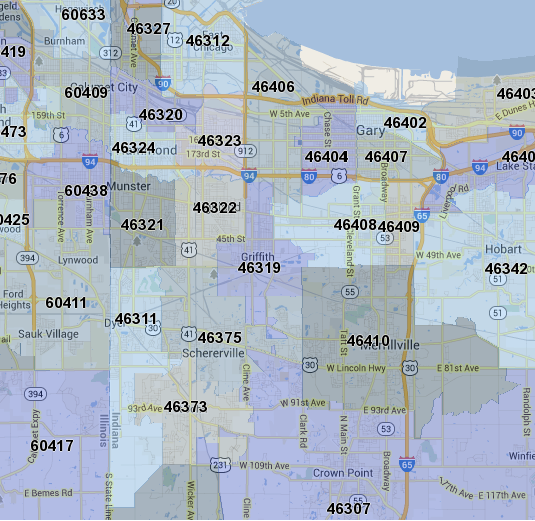 Zip code map, available at http://unitedstateszipcodes.org, July 20th, 2013.
Lake County, Indiana
Crown Point, IN
Cedar Lake, IN
Dyer, IN
East Chicago, IN
Gary, IN

46401, 46402,
46403, 46404,
46405, 46406,
46407, 46408,
46409, 46410,
46411

Grifith, IN
Hammond, IN

46320, 46321,
46322, 46323,
46324, 46325,
46327
Highland, IN
Hobart, IN
Lake Station, IN
Lowell, IN
Merrillville, IN
Munster, IN
New Chicago, IN
Schereville, IN
Schneider, IN
St. John, IN
Whiting, IN
Illinois
Calumet City, IL
Burnham, IL
Dolton, IL
Glenwood, IL
Lansing, IL
Lynwood, IL
Sauk Village, IL
South Holland, IL
Our Mission
To operate a professional and courteous towing service whose primary focus is to serve our customers promptly when needed.
To provide a safe and stable career opportunity for our employees and their families.
To employ people of good character and friendly nature who can professionally represent our industry.
To educate the public in facets of the automotive towing industry to make them better customers.
To create loyal and friendly customers through mutual respect and attention to their needs at all times especially during distress situations.
To assist our customers, their families, their friends, neighbors, or any stranded motorist in any way possible, personally or through a referral.
To associate and work with other business that subscribe to the same professional and attentive work ethic.
To care for the customer of our commercial accounts with a high priority.
To work hand in hand with law enforcement and other agencies to enhance public safety, assisting at accident sites and other emergency situations
Our History
ABC Towing & Service was established in 1993 by Moises G. Rosales. The company began with one tow truck and has grown to a small fleet of light and medium duty equipment. The company's growth is attributed to the philosophy of providing professional and courteous service with a concern for customer satisfaction.
Frequently Asked Questions
1. What number do I call when I need a towing service?
(219) 845-5000, available 24 hours
2. What areas does ABC Towing & Service service?
We service all of Northwest Indiana's Lake County cities, as well as Calumet City, Burnham, Dolton, Glenwood, Lansing, Lynwood, and South Holland in Illinois.
3. What forms of payment are acceptable?
We accept all major credit cards.
Phone Number
(219) 845-5000
Mailing Address
ABC Towing & Service
P.O. Box 2400